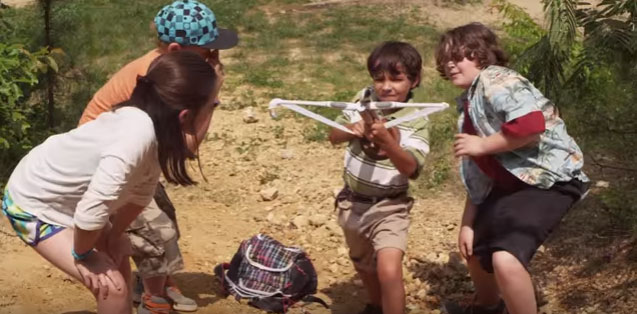 The nights are short and the days are long but that doesn't have to mean bored kids constantly begging you to take them somewhere.
If you're struggling to keep the little ones entertained during the school holidays, there are some great Christian programs out there that will not only keep them occupied but also broaden their view of life with an inspiring faith message.
PureFlix.com is offering a free one-month trial to its video streaming services with thousands of titles, so you don't even have to pay to watch these 10 great children's programs listed below.
Here's our selection of the 10 best Christian children's programs currently available.
1. The Secrets of Jonathan Sperry
An ordinary summer in 1970 takes an out-of-the-ordinary turn when three boys befriend an older man at their church, Mr. Sperry. When the local bully decides to pick on the boys, they find an unexpected ally in the old man and valuable lessons about how to deal with their enemies the Christian way. A great message about turning the other cheek. Just be sure to bring your hankies – the ending's a tearjerker.
Watch it here: https://pureflix.com/videos/333978691968/watch
2. Bandits and the Saints of Dogwood
This fun caper story sees four kids try to pull a prank on their school principal but things turn out differently from planned when they find themselves framed for a robbery they didn't commit. Light-hearted 'Mighty Ducks' style fun.
Catch it here: https://pureflix.com/videos/883589187948/watch
Rick Dancer is a wisecracking washed up detective who has lost his passion for his job and for life, but all of that changes when he gets a new partner – a fussy and fastidious canine dog called Princess. All hell breaks loose as these two learn to get on and even stop a major crime from unfolding. There's some moderate violence so it's better suited for older kids.
Watch it here: https://pureflix.com/videos/455724099912/watch
4. Polycarp
This historical drama is not only a gripping story about a young slave girl, Anna, it is also an insight into a real-life Christian figure, Polycarp and the persecution suffered by Christians in ancient Rome. Anna is liberated from her slavery when Polycarp purchases her and welcomes her as a member of his own family, but another threat to her new-found freedom is looming.
Click here to watch: https://pureflix.com/videos/715565123811/watch
This heartfelt story about a young boy, Johnny, suffering from leukemia will touch young and old alike with its simple yet profound message. Strong in the face of death, Johnny shows what it really means to live by doing everything he can to make a difference for a struggling family before he is called to Heaven. Much more than mindless fun, this is a movie that will have you questioning your own beliefs and attitudes.
Available to watch here: https://pureflix.com/videos/407542339773/watch
Nathan is all set to marry the love of his life when he realizes he's been betrayed by the person he thought he could trust the most. But right in the moment he feels like his life is unraveling, a much better plan is taking shape. The question is: whether he will embrace this new and better future or keep looking back at the love that he lost.
Watch it here: https://pureflix.com/videos/736728131704/watch
7. Box of Faith
Dior is a recently orphaned 16-year-old who decides to set off on her own. In her mind though, she's not really alone as she believes she is able to connect with God through an antique writing box left to her by her grandmother. Foster-care agent Ward sets off to find her, but Dior is always one step ahead.
Box of Faith is available to watch here: https://pureflix.com/videos/748602947611/watch
Chris is a 16-year-old boy with everything but that changes the moment his whole family die in an accident. He grows into a successful but bitter and angry young man. Then he gets a visitor he never expected to give him some tough love and teach him to live the way his family would have wanted him to.
Discover the power of grace here: https://pureflix.com/videos/390104131994/watch
Alex is a snarky teenage bully with a serious crush on Eric, a Christian boy at her school. When he invites her along to summer camp, she's expecting the perfect opportunity to get closer to him. But when she gets there, she's horrified to discover it's a Christian camp. Can God break through the hardness of her heart and help her to see the kind and loving girl she really is?
Watch it here: https://pureflix.com/videos/400335939755/watch
Sunny is a 10-year-old girl with a kind heart but she's also had to grow up fast after losing her father in an accident and having to deal with her own injuries. When she and her overprotective mom move next to a horse ranch, Sunny's recovery begins in earnest when she strikes up an unlikely relationship with a mean-spirited injured horse.
To watch, visit: https://pureflix.com/videos/300292676001/watch
Pure Flix, the company behind the 60-million-dollar film "God's Not Dead," has an online streaming service at PureFlix.com. The On Demand streaming service provides thousands of family-friendly and faith-based titles and is offering a FREE, one-month trial! Click here to sign up now: www.pureflix.com.