After being available to select mobile devices for a few weeks, Google has reportedly started distributing an updated version of the current Android 6.0 Marshmallow operating system (OS). The software bump, which is said to be version 6.0.1, is rolled out to some smartphone models under the search giant's Android One program.

Some Android One device owners are reporting that they have received the official upgrade, but a Twitter user named "@LlabTooFer" managed to get a screenshot (see below) showing the update and posted it on his account. LlabTooFer frequently posts accurate leaks about upcoming mobile devices.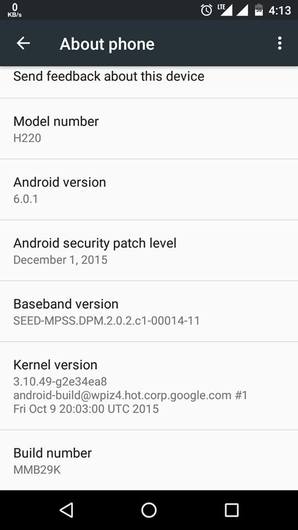 Those who are closely following Google and its mobile platform strategy may already be familiar about Android One. Handsets that run this particular OS version from the company are mostly sold in emerging markets. True enough, the device that reportedly received the new Android 6.0.1 OS is the Cherry Mobile G1, a smartphone made by a local brand in the Philippines. At present, only a handful of devices run the current official version 6.0, those include recently released models such as the LG Nexus 5X, Huawei Nexus 6P and HTC One A9.

As for the update itself, reports indicate that it is not a major one and only serves to bring bug fixes and stability enhancements. A quick glance at the picture shared by LlabTooFeR above suggests that its security patch level is set on December 1, 2015. Phone Arena notes that this is not related to the tech giant's monthly security updates given that the November security patch has already been released without changing the Android version number.

Android users on Reddit are quick to share their screenshots on the site's "/r/Android" board. A Reddit user named "ashu90" posted a photo of their phone running Android 6.0.1. There are those who are skeptical about the authenticity of the update, pointing out the supposedly suspicious December 1 patch level.

However, some Redditors claim that the upgrade is legitimate. "It's correct. These are monthly patches that will be released by Google every month. Android One received Nov Patch in Oct itself. I too have Android one, and these patches will be [sic] roll out shortly to Nexus devices too," a user named "riskcheck" explained.

LlabTooFeR claimed in a separate tweet that Android 6.0.1 Marshmallow will be rolled out in a few months. He said that the more stable Android 6.1 Marshmallow will then be available next year. Nevertheless, even if this speculation turns out to be accurate, it remains to be seen whether Google will choose to update smartphones and tablets to Android 6.0.1 or jump directly to Android 6.1.