Google will soon launch two new 2015 editions of its Nexus handsets, believed to be the LG Nexus 5X and Huawei Nexus 6. Both models have already been featured in several leaks over the past weeks. Now, a purported new benchmark result of the larger Nexus 6 has surfaced online, clearly showing that the co-branded Google smartphone runs the upcoming Android 6.0 Marshmallow OS.

The unannounced Huawei-made phone, codenamed "Huawei Angler," has recently passed through GFXBench's database revealing a handful of information about what it will offer.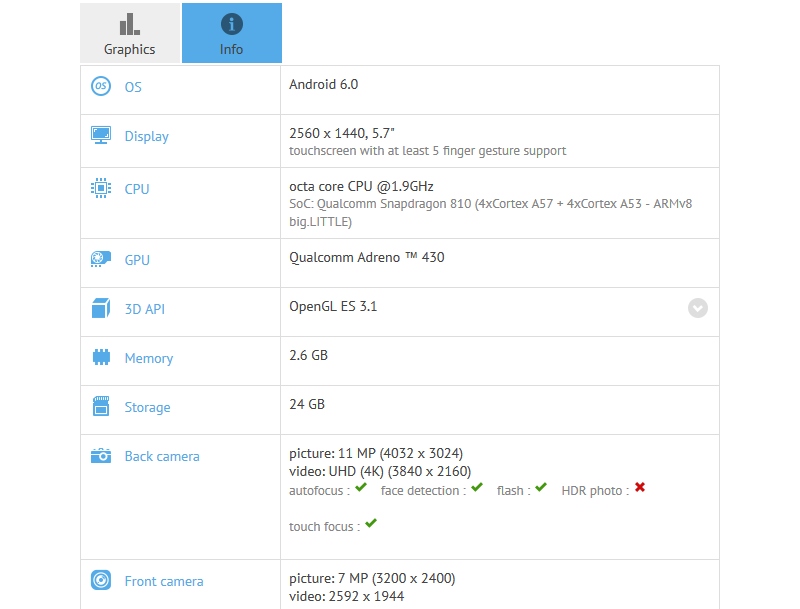 The Nexus 6 2015 edition will reportedly sport a 5.7-inch screen with 2K resolution. That translates to a pixel density of about 515ppi. A 1.9GHz octa-core Snapdragon 810 chipset from Qualcomm is fitted inside supported by 3GB of RAM. As mentioned, its operating system would be the new Marshmallow OS as GFXBench put "Android 6.0" right next to the OS box. 

An Adreno 430 GPU with OpenGL ES 3.1 3D API would also be equipped inside the device to help deliver graphics performance. There will be 24GB of internal storage, 12-megapixel camera capable or recording 4K video along with an 8-megapixel front-facing camera.      

Expected to come alongside the new Nexus 6 is the LG-made Nexus 5X. The slightly smaller Nexus has once again been the subject of various rumor mills as a leaked image (see below) apparently shows the handset in a mint green finish.

The photo was shared by South Korean website called UnderKG and described the color as "Tennis Court Mint." However, it is not clear if that is that actual name of the variant or just used by the source to define the color.

Nexus fans may recall that the search giant previously launched the last generation Nexus 5 in black and white then later introduced a red variant. It is possible that Google may also repeat the move for this year's edition.

In terms of specifications, the LG Nexus 5X is earlier reported to sport a smaller 5.2-inch display with HD resolution, Qualcomm Snapdragon 808 processor, and 3GB worth of RAM. A 12.3-megapixel primary camera is furnished at the back as well as a 5-megapixel camera in front.  It will be powered by a 2,700mAh battery and provide support for the new USB Type-C standard.

The next-generation Nexus 5X and Nexus 6 are widely seen to be the first devices to run Android 6.0 Marshmallow out of the box when they arrive next month. Last week, Google is reported to be planning a major launch event for September 29 where they will unveil the said Nexus smartphones.